Testimonials: Digital Youth Dialogue And E-Participation in Policy Making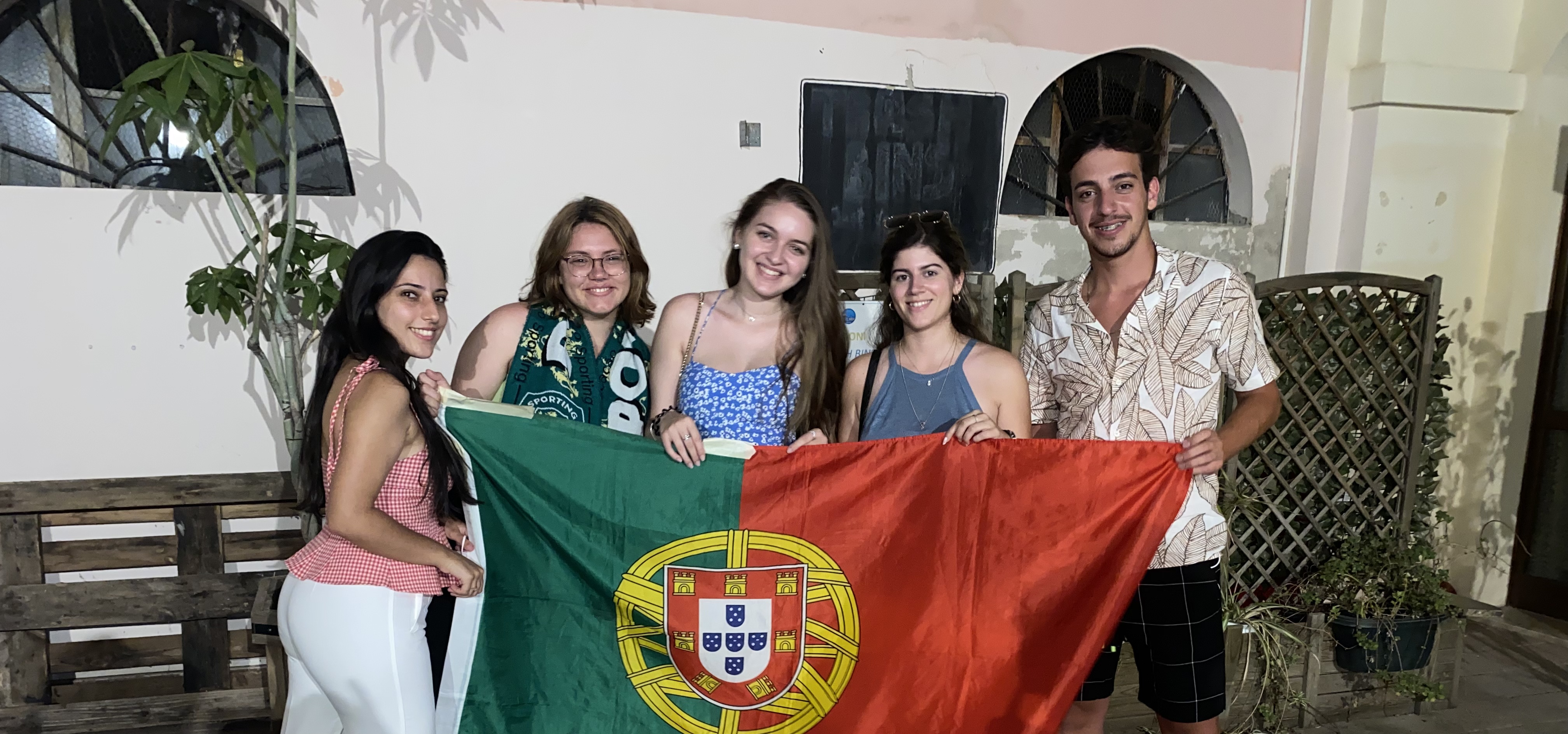 "In the summer of 2021, at the end of my 3rd year of Law Degree I decided to apply to participate in an Erasmus+ mobility program, the "Digital Youth Dialogue and E-Participation in Policy"
I was very happy, as it was something I intended to do during my academic life. This program took place in Cagliari, Italy. It has always been a country that fascinated me and that I wanted to know, the need to improve my English, learn a new language were always factors that motivated me even more, as I mentioned in my application.
On July 20, 2021, I took the plane with my colleagues and headed towards Italian lands (it was a complicated trip, as we had to spend the night at Lisbon airport and make a stopover at Amsterdam airport, but with good company everything if it does).
When I arrived in Cagliari I was surprised, as the weather was as humid as the Azores, I felt at home.
We were very well received by the Italian team that coordinated the project, mainly Giangi and Andrea. Without them our trip would not have been so fun or easy.
The days went by and I gained confidence with other Erasmus colleagues from other countries (Italy, Malta, Cyprus), the only negative point of this trip was the fact that we were in the middle of a pandemic which made it difficult for our group not to get involved a lot with the rest (we were the only ones who weren't vaccinated and that's why we didn't take part in the visits to the evening terraces).
In addition to the incredible friendships I made, I learned what reality is like on other islands on various political-cultural issues.
After the group work and presentations, workshops, Feedbacks regarding the platform that was being created, there were typical lunches and dinners, walks around the city, trips to the beach, socializing.
I must say that without a doubt this was a project that I will never forget and I have no regrets. When I returned home on the 25th of July, the desire to stay on Italian land was immense, it took a lot to leave that city, those fantastic colleagues, it took a long time to leave everything I built there, but it had to be (I hope for one). day to be able to return).
Erasmus+ is a way of cultural and academic enrichment, a life lesson, a way of psychic growth and of becoming independent. It was an unforgettable experience and one that I will take with me for the rest of my life. It would easily repeat."
Testimony from Ana Catarina Codorniz
--
"I must say that my experience surpassed all my expectations, from what concerns the training, but also the culture and experiences that the coordinators took care to provide us. Furthermore, I went to Cagliari with the intention of doing a training in "Digital Youth Dialogue and E-Participation in Policy Making", however, in addition to having done so, I must emphasize how the whole group welcomed and dedicated us. several periods over the four days to take us to know the city, eat the typical delicacies, do activities to get to know each other better, as well as hold an intercultural evening so that we not only get to know the culture of the other participants better (Sardinia, Cyprus and Malta), as well as publicizing ours.
In short, I can only show my gratitude to AJITER for having given me this opportunity and I would undoubtedly recommend any other young person to go on an adventure like this."
Testimony from Teresa Roque
--
"Being part of projects of this type is always enriching. We learned and grew immensely, as well as having a completely different view of the world from the one we built from an early age. The truth is that, despite the world being one, there are many cultures and even greater opportunities are made available to us in order to know them. To this end, AJITER has a huge contribution as part. This was my second experience through the association, and I couldn't be more grateful for all the baggage I will carry with all my heart for the rest of my life, looking forward to the next opportunity with great enthusiasm. The learning and values ​​that we are embracing largely overlap with the reality that plagues us, making us discover different worlds and endless possibilities, making us believe that there is much more to the life we ​​are creating in our country. This type of project always exceeds my expectations and is a step towards something bigger, something transcendent. And words will never do justice to highlight the role of all the strangers who become great friends, welcoming and with an open heart, available to welcome us in their country as if we were already part of it! It's a pleasure, a pride and a filling of my soul, not only to be able to represent my community, but also to learn more about those around me (us) around the world. It is with great feeling that I end this testimony with a word of motivation to all of you, readers (and possible adventurers): don't stick to what you know, as it is the safest and most comfortable option. Aim. Set out on that adventure you once dreamed of. Grab every opportunity as if it were your last, and I assure you that you will emerge triumphant, happy, fulfilled and, above all, fulfilled. And, who knows, one day we will walk together in what is, for sure, the greatest adventure of our lives."

Testimony from Ana Fagundes